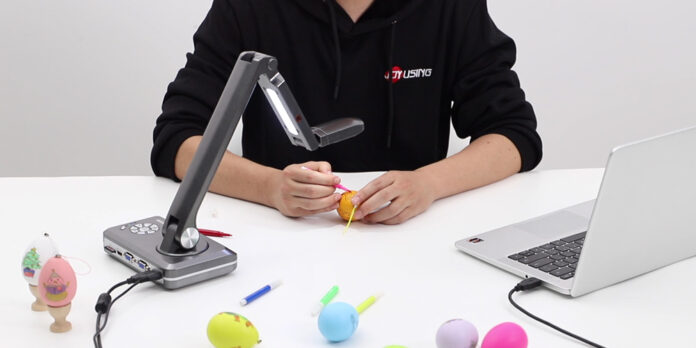 The evolution of technology has helped humankind to create of a wide variety of tools, including document cameras. So now, gone are the days when an overhead projector and transparency sheets were the pinnacles of high-tech presentations.
Also known as a visual presenter or visualizer, a document camera provides the right tool for educators, court lawyers, or anyone looking to make an effective presentation.
They are very easy to use and require minimal to no setup at all. Read below to learn more about how to find which one is the right doc cam for you.
Which type of connection port do you have available?
Based on how you plan on doing your presentation, you will need to think about the type of output connection when purchasing a document camera. These are the most common connection ports:
VGA and/or HDMI output: Document cameras with VGA or HDMI outputs can be connected directly to displays such as projectors or monitors.
USB output: Document cameras with these ports are normally the cheapest. However, they require a connection to a desktop or notebook.
VGA and/or HDMI with USB output: They are the most expensive type of document camera. However, they are very common to find because they offer more flexibility than the rest.
Most document cameras that use a USB output come with software that can capture and record images directly into the computer. Others don't require download software to do that. However, one thing you need to know is that document cameras can't be connected to the interactive board. They all require a computer or screen monitor.
Do I need a portable or stationary document camera?
Another thing to consider when buying a document camera is why you need one. If you have a single classroom where you need to use the document camera, a fixed installation might be the right choice. But if you give multiple presentations in different places, you should definitely choose a portable camera. Here are the ways
A fixed installation document camera tends to be bigger. They are known for having a lightbox for X-rays, negatives, or slides. That makes them perfect for use on stage, in the classroom, or the library.
Meanwhile, a portable document Camera has a flexible neck (gooseneck) that folds easily. That way, they allow for greater mobility than fixed installations. And even though they are smaller, these document cameras are available in basic to full-featured models.
What resolution do I need?
The resolution of the document camera you choose will determine the quality of the displayed image. Resolution is usually measured by the number of pixels and lines. These cameras are classified by their resolution, just like any data projector:
It doesn't matter whether if you use a data projector or a simple monitor to display the image. The most important thing in this topic is that you need to match the resolutions. Your document camera resolution cannot be higher than the input resolution. That's the only way to avoid pixelated images.